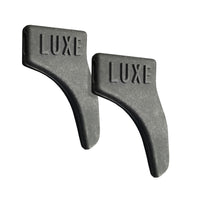 12 Pairs of Luxe Performance Ear Hooks - 24 total ear hooks
Anti-slip: Silicone temple tip grip ear hooks help secure your eyewear in place. Keep your glasses in place all day no matter the adventure. Great for everyday use.
Lightweight: Silicon glasses ear hook that is simple and lightweight. Simple to install and comfortable you will forget they are installed on the temples of your eyewear.
Useful: Glasses ear grip hooks can be used on multiple types of eyewear. Sunglasses, eyeglasses, safety glasses, and all eyewear can utilize the eyewear holders to keep them secure.
Quality: Durable anti slip eyeglass holder that allows eyewear to stay in place. If your glasses are constantly slipping down this glasses retainer will help solve that issue.
Durability: A lot of eyeglasses ear grips are thin and not durable. These silicone eyewear retainer will last and be able to be reused multiple times.
Luxe Performance
Luxe Performance Ear Hooks